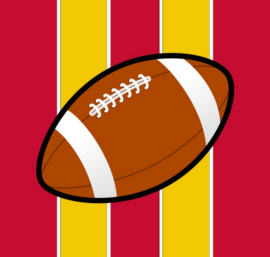 At Party Glitters we strive to make your Super Bowl 2020 party spectacular. Here are last-minutedo-it-yourself Super Bowl party ideas.

The chili's been made, the wings have been ordered, and the beer has been bought. But there are a few do-it-yourself tricks you can still execute to take your Super Bowl game watch from good to great.
Whether you're hosting or simply bringing the perfect decorating touch to a friend's house, these nine DIY Super Bowl party ideas can enhance your living room gathering into something even more fun and creative.
A GAME DAY MENU
A small blackboard and some chalk is all you need to let your guests know what game day dishes to expect. Keep things in the football spirit by writing in straightforward print rather than flowery script. And as an added tie-in, you can divide your food into four courses and call them "downs." You can head to our Brooklyn, Queens and Hauppauge, Long Island locations to find all party supplies such as this chalk board.
FOOTBALL FIELD GUACAMOLE
Planning on serving up some guac? A little sour cream can turn your tray of dip into a yard-marked replica field of deliciousness. Learn how to make the pretzel goal posts (and everything else you see above) here. You will find a large selection of tableware and party supplies at our locationS AT Brooklyn, Queens and Long Island.
SUPER BOWL CONCESSIONS STAND
Fill individual cups with snacks that your fellow game-watchers can snag, grab-and-go style. And when you place a football-themed sticker on each, all your guests will always know which personal snack cup is theirs. You will find large selection of stickers at our Brooklyn, Queens and Long Island locations.
PRINTABLE NAME-TAG STICKERS FOR DRINKS
Although it might take a slight amount of lead time, this might be the handiest DIY trick of them all. From Jen St Clair of Little Sprout Creations, these personalized labels are perfect for keeping track of your drink, cutting down on wasting cups, and adding yet another touch of Big Game flair to your affair.
SUPER BOWL BINGO
You can use the above as inspiration to make your own Super-Bowl-specific game of BINGO. Each box represents something that might happen during the game, like a field goal, a shot from the blimp circling the arena, or one of those Matthew McConaughey car commercials. You could put an M&M on the boxes to keep track of who's winning, or turn this into a fun drinking game. You can find bingo supplies at our Brooklyn, Queens and Long Island locations.