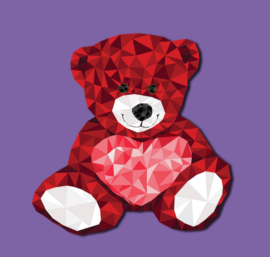 Valentine's Day 2020 is a great ocasion to plan some Valentine's Day fun for your child and friends this holiday. Here at Party Glitters in Brooklyn, Queens and Long Island we have Valentine's Day party ideas for decorations, food and games to help you host a fun party for your little Valentines!
A sure-to-please Valentine's Day party is one that mixes cookies and a child's creativity. You will need basic sugar cookies baked in Valentine shapes such as hearts and "Xs" and "Os," pastry bags filled with pink, white, and red icing, sprinkles, colored sugar, and other cookie adornments. Kids will love getting creative and constructive as they strive to create edible works of art. Be sure to take photos as these treats may not last long. You could have prizes for the prettiest, funniest, most colorful, or most classic decorated cookies. The finished creations can be used as gifts for parents, grandparents, or siblings. Provide clear cellophane bags, curling ribbon, and gift tags. Head to Party Glitters locations in Brooklyn, Queens and Long Island for chocolate molds and decorations to make your Valentine's Day cookies special.
Valentine Crafts Party
Another fun idea for a Valentine's Day celebration is a craft-making party. The hardest part is deciding what type of crafts you want to make with the children. There are virtually hundreds of crafts to choose from. Consider the age of the children, their ability level, then decide which crafts you want to make. Then, get some supplies, and let the children's imagination run wild. To get you started with a few ideas, think of making a heart wreath, Valentine's Day cards, or tissue paper flowers. At Party Glitters New York locations we have large selection of crafts and party supplies.
Bake-Your-Own-Treat Party
Without a doubt, Valentine's Day is a sweet tooth's holiday. Consider throwing a Valentine party that is centered around children helping you make the sweet treats from start-to-finish. And, an added benefit, you can make treats that are low fat and low in calories—good for the heart, too. Check out these sweet treat ideas, most sweet, a couple savory, that teach a valuable lesson about finding the way to a person's heart. Visit Party Glitters Brooklyn and Queens locations for candies and party favors for your 2019 Valentine's Day party.
Games for a Valentine's Day Party
It's not really a party without games. There are many games with a Valentine's Day twist. They include Catch My Heart, relay races, scavenger hunts, and variations on musical chairs. If you are helping to set up a classroom party or are hosting a party for children at school, the main things you will need to think about are how many children will be there, what are their ages, and how long will the party be? Tailor your party to the children and the time you will have. Enjoy great selection of party games at our Hauppauge location on Long Island.
We hope you enjoyed our party idea tips. For all your party supplies and decorations please visit our locations in Jackson Heights and Roosevelt Avenue in Queens, East Willamsburg in Brooklyn and Hauppauge on Long Island.