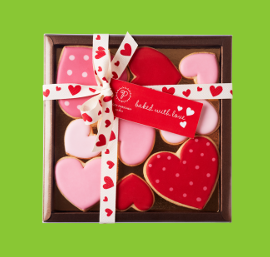 Valentine's Day 2020 is fast approaching. Here at Party Glitters in Brooklyn, Queens and Long Island, we believe that having deserts are a great way to celebrate Valentine's Day with special people in your life. So, we came up with a list of the best deserts for a great Valentine's Day 2020 party. Don't forget that our locations in Brooklyn, Queens and Long Island carry a large variety of baking supplies, chocolate molds and cake toppers to have an amazing Valentine's Day Party.
Below you'll find an awesome selection of deserts to celebrate Valentine's Day.
Cheesecake Stuffed Strawberries - An ultra-simple dessert perfect for parties! Our party supply stores carry all necessary supplies for it.
No-Bake Chocolate Cherry Cheesecake – This quick and easy black cherry chocolate cheesecake is the ultimate in indulgent desserts. A no-bake pudding that can be made ahead. You can decorate it with our cake toppers available in Brooklyn, Queens and Long Island locations.
Molten Chocolate Lava Cake – Soft moist cake surrounds ooey gooey chocolate in the middle. A dessert that looks so impressive yet only take minutes to make!
Homemade Peanut Butter Cups – You can buy a boring bag of peanut butter cups from the store or you can make your own peanut butter cups that are absolutely phenomenal!
Red Velvet Sugar Cookie Bars – These red velvet sugar cookie bars have crispy edges and buttery soft centers that melt in your mouth. Top with a light cream cheese frosting makes these cookie bars simply irresistible.
Dipped Chocolate Chip Cookies – Super soft chocolate chip cookies are cut into hearts, with half dipped in white chocolate, then topped with sprinkles. A perfect way to say "I love you!"
Red Velvet Cupcakes with Cream Cheese Frosting – Perfect moist Red Velvet Cupcakes with decadent Cream Cheese Frosting made from scratch!
Red Velvet Sheet Cake – This red velvet sheet cake with cream cheese frosting is a delicious classic. Perfect for a Valentine's Day party, or any time you need a foolproof red velvet sheet cake recipe!
Strawberries and Cream Pie – Heavenly Strawberries and Cream Pie with fresh strawberries atop a sweet light and fluffy filling! Easy to make, this Strawberry Pie is going to quickly become a family favorite!
Red Velvet Kiss Cookies – These Red Velvet Kiss Cookies are so easy to make, amazingly delicious, and will become a new favorite. 5 ingredients and 20 minutes and you will be eating a warm cookie!
Red Velvet Cream Cheese Brownies – Cake-like red velvet brownies are enhanced with a smooth cream cheese layer on top. Beautiful and delicious!
No Bake Peanut Butter Cheesecake Jars – A crunchy, creamy make-ahead dessert with lashings of peanut butter cheesecake.
Strawberry Yogurt Cake – Fresh Strawberry Yogurt Cake with a Strawberry Cream Cheese glaze, from scratch, is super moist and amazingly delicious!
Fruit Pizza – This Fruit Pizza Recipe is easy to make, refreshing and delicious, and the crust is made from sugar cookie dough! You are going to love this fruit pizza!
We hope you enjoyed our list. For all your party supplies, baking needs and chocolate molds please visit our locations in Jackson Heights and Roosevelt Avenue in Queens, East Willamsburg in Brooklyn and Hauppauge on Long Island.