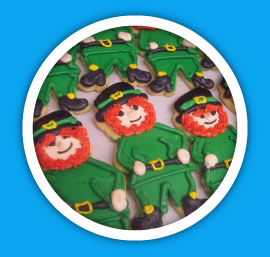 Cookies and desserts are the perfect ending to any St. Patrick's Day celebration. Irish cuisine is most often associated with corn beef and cabbage, but it also offers a variety of mouth-watering desserts. Here are a few authentic St. Patty's Day desserts that will complete your party menu and impress your guests.
Irish Soda Bread Cookies: These cookies are as easy to eat as they are to make, which is why this Irish cookie the perfect dessert to serve at any St. Patrick's Day party. Other desserts, suitable baking includes treacle tart, green doughnuts and tie-dyed cake for the kids. Add a pot of gold to the top of the cake!
Celebrate this great Irish day with traditional St. Patrick's Day recipes. Serve your guests a menu mixed with classic dishes and a few surprises. Irish Pub foods are always a big hit, and another great idea is to make some of the dishes green.
Head to our stores in Brooklyn, Queens and Long Island for baking supplies, cooking and baking molds.
Read more