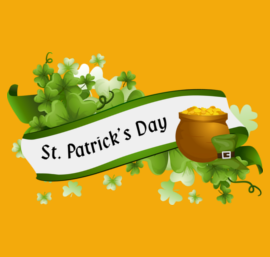 St. Patrick's Day 2018 is fast approaching, here at Party Glitters locations in Brooklyn, Queens and Long Island we came up with a few innovative and creative party ideas for celebrants like you. Check it out and have a blast on that special occasion.
Party Ideas for St. Patrick's Day
St. Patricks Day is an Irish Culture, but it does not always mean that in order celebrate one need to be an Irish. But if you are planning to throw a St. Patrick Day party, here are some brilliant ideas which will enhance your party further. The theme of the party should be filled with Irish flavors though which should tinted with color of green.
Party Invitation:
If you are planning to host a St. Patrick's Day party at you home, the most important task need to be done is to make a list of your guests who should be invited. Once you are done with your guest list, customize your own invitation cards. Make sure all of the relevant information is duly included on your invitations such as date, time, location, parking info, etc. You can also mention to your guests whether there any particular dress code or color code (keep it green). But on a point of advice make sure you send your invitation preferably three to four week prior to the actual date of party.
Decorations
Decorations for the party wouldn't be complete without hanging cut outs of shamrocks, rainbows, and leprechaun. However here are some of the St. Patrick's Day decoration ideas which you can easily apply. You can adorn your place with beautiful green light bulbs, green helium balloons and shamrock-shaped party lights. Moreover to add on the mood further you further incorporate golden colored bar made of plastic. Further you can use shamrock tissue garland for hanging. You can also place a big rock at the entrance and make it the Blarney stone. Let people and guests come in and kiss it. According to the legend, if someone kisses on the actual stone, then he is offered a gift of eloquence and persuasiveness. Moreover you can also place a Patrick's day themed door cover for greeting the guests, and enough twinkling green colored lights so as to cover every nook and corner of your party. Go green during the Irish-themed party on the St. Patrick's Day. For all St. Patrick's Day 2018 party supplies visit our locations in NYC and Long Island.
Favors
The best way to show warmth and gratitude to your near and dear ones is to receive them with small gifts of favor. Different types of favors can be Irish Classic Gift Basket, Shamrock Basket, "I'm Lucky to Have You" Rolo Baskets, Mason jar with Goodies and many more. These gifts are easy to find, for you will get it from any thrift shops. However it is highly advisable to hand out party favors according to the theme of your party. See your loved ones smile from ear to ear when they receive your unique St. Patrick's Day party favors.
Food
A St. Patrick's Day celebration is all about the food! Start with salad and Irish soda bread. On top of your salads, make a four-leaf clover shape out of green peppers. Then, serve up the traditional lip smacking Irish foods, such as corned beef, cabbage, Irish Soda bread and innumerable potatoes, as the main meal. Irish Beef Stew should not be left out from the course of the menu. For yummy dessert, use some shamrock-shaped cookies as toppings over an Irish cream cake. Irish whiskey and dark Irish beer should not be given a miss.
We hope you found our ideas helpful. And don't forget that for all party supplies, balloons and decorations you can visit any of our locations in Queens, Brooklyn and Long Island.
Read more