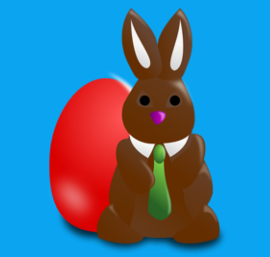 Easter 2017 is fast approaching and here at Party Glitters locations in Brooklyn, Queens and Long Island we have all the necessary baking supplies you need to make your Easter party unforgetable. As you know, we have a large selection of Easter chocolate molds. Here are a few helpful tips on how to make you chocolate lollipop using Easter molds in our store.
1. The Chocolate:
We reccomend using confectionery coating. It contains vegetable fat rather than cocoa butter, which makes it much more stable. Confectionery coating is great to use when you're making candies with kids. It also comes in a variety of colors and flavors.
2. Candy Equipment:
Here is where we come in. Check a wide variety of molds on our website or visit our locations in Brooklyn, Queens and Hauppauge.
3. Chocolate lollipops:
Remember to buy lollipop sticks. You can visit our locations in New York to find a large selection of baking supplies.
4. Filling the Molds
Fill each mold slowly with a squeeze bottle, spoon, or by pouring chocolate from a measuring cup. Using your palette knife or spatula, scrape off any excess chocolate into a clean bowl; it can be gently warmed and reused. Once the back of the mold is smooth and even, gently tap the tray of chocolates on the countertop to pop any air bubbles. If you're making lollipops, insert the sticks, twisting gently so that they're completely coated with chocolate. To make the chocolate harden quickly, put it in the freezer for a few minutes. Once the chocolate is firm enough to come out of the mold, invert the entire mold onto a clean towel and twist very gently to release the chocolates.
5. How to Melt Chocolate
When melting chocolate or confectionery coating, there are a couple of things to remember. Don't let water or other liquid come in contact with it, or it will seize. Don't allow it to get too hot, as excess heat will both cause the chocolate to separate, rendering it unusable. You can check the temperature of the chocolate by dabbing a small amount of it on your lip or the inside of your wrist. It should feel warm, not hot. Coating chocolate and some brands of couverture come in small discs for easy melting. There is a very easy way to melt chocolate in a microwave. Place it in a microwave-safe bowl and zap it on high power at 10-second intervals, stirring each time, just until it's completely melted.
We hope you enjoy our chocolate candy making tips. Please visit our locations in Brooklyn, Queens and Long Island for all you party supplies.
Read more