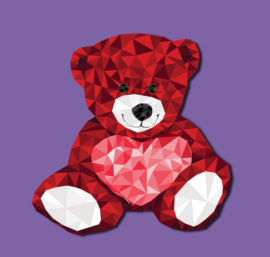 Valentine's Day 2018 is a great ocasion to plan some Valentine's Day fun for your child and friends this holiday. Here at Party Glitters in Brooklyn, Queens and Long Island we have Valentine's Day party ideas for decorations, food and games to help you host a fun party for your little Valentines!
For great Valentine's Day party favors and decorations, shop our Valentine Party Supplies at our Brooklyn, Queens and Long Island Island locations. Are you a teacher throwing a Valentine's Day party for your students? Check out some of our Valentine's Day School Party Ideas here, too!
In addition to basic Valentine's Day party supplies, like plates, cups, napkins and decorations, you may want to consider purchasing the following items for your Valentine's Day party:
Card-making supplies such as construction paper, stickers, markers and glitter
Valentine's themed candy and boxes of chocolates.
Roses, pictures of cupid and heart shaped decorations.
Show your guests some love by sending them personalized Valentine's Day 2018 party invitations to your party. Looking for something homemade? Creating your own Valentine party invitations can be fun, especially if you make it a family activity!
Dress up plain pink polka dot invites with a heart sticker and gingham bow. Take the embellishing even further by adding "Be My Valentine" stickers to the envelopes.
Valentine's Day 2018 Party Decorating Ideas
Sugarcoat the tabletop with these Sweetheart party pieces. You can use all the coordinating elements or mix-n-match them with our pink and red polka dot sets. Don't forget to include pink polka dot straws. Everything tastes better sipped through a cute straw.
Transform paper plates into ruffled banner pennants with a bit of crepe paper streamer and hot glue. Give red and pink polka dot banners a makeover too by removing and re-attaching alternating color pennants.
Don't forget to include decorative details on the floor. A combination of balloons and honeycomb tissue balls float at the foot of the table bringing a touch of lighthearted fun to the party.
Valentine's Day 2018 Party Activity Ideas
Take a break from devouring all those sugary sweets and let guests work on constructing these adorable candy robots. For small friends, use adhesive dots to glue pieces together. Older guests could use a hot glue gun. "Be My Valentine" stickers are attached using foam adhesive for depth and emphasis.

Valentine's Day 2018 Party Favor Ideas
Fill favor boxes with a variety of fun and frivolous surprises including a candy tube stacked with chocolate hugs & kisses. Add a Valentine sticker and personalized luggage tag to embellish and identify each guest's box.
We hope you enjoyed our decorating tips. For all your party supplies and decorations please visit our locations in Jackson Heights and Roosevelt Avenue in Queens, East Willamsburg in Brooklyn and Hauppauge on Long Island.
Read more