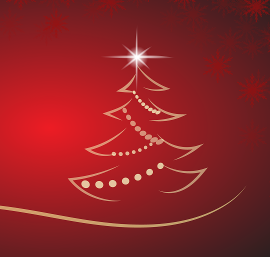 Christmas is fast-approaching, here at Party Glitters at our locations in Brooklyn, Queens and Long Island we have a large selection of party supplies to make your Christmas 2017 party truly great. Here are a few party ideas:
A Christmas Masquerade Ball
Encourage everyone to come dressed to the nines for a masquerade ball? In the invite you could perhaps explain the history of masquerade balls and link to some tutorials on mask-making to get everyone thinking of ideas for their own.
For decorations, think harlequin patterns, theater masks and anything decadent - a winter wonderland theme could also work perfectly. Serve finger foods and funky cocktails, and keep the music pumping all night. At Party Glitters location in Hauppauge you will find a large selection of masquerade themed decorations.
For those who haven't come with a mask, or who want to give theirs a little extra pizazz, set up a mask-making station with colored card, string, felt pens, feathers, glitter and other decorations. In one corner of the room, create a photo booth area with a curtain backdrop and a box of props; mustaches, fairy wands, Santa hats, feather boas and funny signs.
Masquerade balls are made for dancing, so be careful to choose a fantastic band who will get everyone up and on the floor. A prize for best-dressed and best-dancers is a must.
Winter Wonderland Christmas Party
There's something magical about a white Christmas – where the whole world is covered in snow, and there is ice skating and hot chocolate and bright scarves and hats. Embrace the season with a Winter Wonderland theme. Decorate your party space to look like a winter palace, with white draping, fairy lights, ice sculptures, glittering snowflakes, and cuddly polar bears. Head to Party Glitters in Brooklyn and Queens to find all necessary supplies.
Santa's Workshop Christmas Party
What's Santa making in the North Pole? Why don't you find out! Set up your party room to look like Santa's workshop – a corner for Santa visits, piles of presents ready to go on the sleigh, and different workstations where busy elves have fun activities for guests to do.
Get someone to wear a Santa suit – you can usually find some willing participant. Everyone can take turns getting their picture with Santa – as the night goes on, the pictures will no doubt get sillier and sillier. It can be fun to also supply a few props to make photographs even more interesting.
At each elf "workstation" include different activities that either test the guest's creativity or team-building talents. Build bridges from Popsicle sticks, create your own sushi, or paint each other's faces.
We hope that these few ideas will help in your Christmas preparation. For all these holiday party supplies and decorations visit our locations in Brooklyn, Queens and Suffolk counties.
Read more