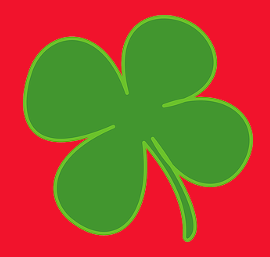 St. Patrick's Day 2017 in Queens, Brooklyn and Long Island, NY is a great occasion to have a party for the whole family. Here is a great recipe for shamrocks chocolate marshmallow lollipops that could be made with chocolate molds available at our stores and online.Share the luck of the Irish on this St. Patrick's Day by making these chocolate shamrock marshmallow pops for classmates, friends and coworkers.
You will need the following ingridients:
- Dark chocolate merckens melting wafers
- Miniature marshmallows
- Green food coloring
- St. Patrick's Day Clover Mold
Preparation:
Microwave chocolate melting wafers in 30 second intervals, stirring until smooth in microwaveble safe bowl.Spread a generous layer of chocolate in each cavity of shamrock molds making sure to coat sides well. Dip the end of your lollipop stick or paper straws in chocolate and place into cavity so that 3/4 of the shamrock contains the end of the stick.
While the chocolate is setting, microwave miniature marshmallows in a separate microwave safe bowl in ten second increments. Add a few drops of green food coloring and stir until smooth.
Working quickly, as the marshmallow will set fast, transfer marshmallow to a plastic piping bag. Cut off the tip and pipe marshmallow into the center of each cavity until they are approximately 2/3 full.
CAUTION: melted marshmallow gets hot - wrap a dishtowel around piping bag if necessary. Piping bag can be re-heated in 5 second intervals if marshmallow starts to set.
Cover marshmallow and completely fill each cavity with remaining melted chocolate, reheating as needed.
Gently tap mold on flat surface to release any bubbles and allow chocolate to settle.
Allow to harden completely either at room temperature or in the refrigerator before carefully un-molding.
Hope you have an amazing St. Patrick's Day. For all your St.Patrick's Day party and baking supplies visit our location in Brooklyn, Queens and Long Island, NY.
Read more