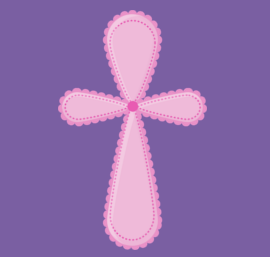 First Communion 2019 is a very special day for families. Here at Party Glitters, party supply store in Brooklyn, Queens and Long Island, we came up with a few tips and ideas for your celebration.
When it comes to colors for the first communion celebration, we reccomend a two-color style with an additional accent color. A good example is pink and white with silver accents throughout. At out locations in NYC and Suffolk county you will find a great selection of first communion party supplies and decorations.
Matching food with the party colors when possible creates a beautiful result that can be easily achieved. Cross and angel cake pops could be done in the party colors and mounted on paper straws. At Party Glitters, we have a large celection of communion themed baking supllies and chocolate molds.
A great idea is to get a table cloth that matches a main theme color. Those, and other party supplies such as plates and napkins could be found at our locations.
Balloons and streamers are an affordable way to add extra beauty to your party. A wall could be accented with balloons clustered together in sets of four and color streamers twisted in parallel sets along hanging from the balloon wall banner.
Chair covers and bows are one of the great ways to turn the seating area into a dining experience! Take an extra couple of minutes to make sure the backs of your chairs are evenly aligned for that extra touch of visual perfection!
Fancy up your table centers with a personal touch of DIY and practical gifts. Flowers colud be made with wooden dowels, with ribbon wrapped around them. The dowels cold be then inserted into white styrofoam balls. Pre-framed pictures of the First Communion child will also be a hit with guests!
We hope you will find our tips helpful. And don't forget to head to our stores in Brooklyn, Queens and Long Isalnd for all your first communion party supplies and decorations.