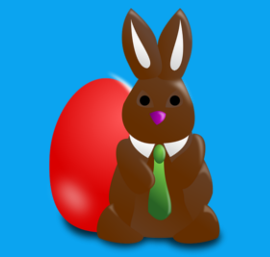 Who doesn't enjoy an annual egg hunt? But this 2019 in New York City, Queens, Brooklyn, Long Island and Connecticut , it's time to think outside the basket. Start with these unique Easter party ideas that are fun for every bunny. Here at Party Glitters we have come up with 9 Easter party ideas the whole family will love
Sow some seeds
With sprouts starting to poke through the ground and those first flowers blooming, it's the perfect time to get your hands a little dirty and plant a garden in the backyard with the kids. They'll love helping take care of it and watching it grow.
Make bunny bait
Help the little ones lure the Easter Bunny to your home by making bags of bunny bait. Check out this cute concoction on Etsy or make your own special mix. You can keep your snack mix for yourself or take it to your child's school to pass out as an early spring treat. And don't forget to visit our locations in Brooklyn and Queens for decoration and paper supplies.
Try napkin origami
If you're hosting Easter brunch or dinner, get the kids involved with setting the table with a little arts and crafts project. Folding cloth napkins into little bunnies is easy but still looks elegant and festive. They can show off their creations to Gramps when he arrives! Our location on Long Island features a large collection of tableware supplies.
Trim the tree
We all love decorating the Christmas tree, so why not continue that tradition in the spring? You can buy Easter trees at craft stores or you can make your own with a branch from the backyard. Just hang little Easter eggs and a pretty pastel garland.
You could turn another totally adorable Christmas tradition (gingerbread houses) into an Easter one. You and the kids can start with a standard gingerbread house kit as your base, then decorate with colorful frosting, chocolate eggs and, of course, plenty of marshmallow Peeps. The end result is some adorable Easter decor!
Host an Easter game night
Invite some family friends over for a night of festive fun. You can revamp classic party games for a seasonal celebration—activities like pin the tail on the Easter bunny (purchase it here!), Easter bingo and, if you're brave, even egg dying. Don't forget to serve themed treats, too, like carrot cupcakes or nesting chicks.
Create a countdown
Counting down the days will get the whole family excited for Easter. Not only does a cute calendar look great on the wall, it's also a project you can make at home with some help from the kids. You can also treat it like an Advent calendar by filling eggs with small goodies to be opened each day. Or purchase this handmade calendar.
Make s'mores
There's something about the classic combination of graham crackers, melty chocolate and gooey marshmallows that no one can turn down. To make your s'mores spring-themed (and much more Pinterest-worthy), use colorful Peeps instead of regular marshmallows. Learn how to make them here. Tip: You can make s'mores in your microwave, too. No bonfire needed! Head to our locations in Queens for baking and cooking supplies.
Hold an egg-dying contest
Encourage your kids to channel their inner creative genius by turning your Easter egg dying into a competition. Offer prizes for categories like "Most Colorful," "Most Unique," or "Funniest." Everyone will have a blast trying to make their eggs the best in show. Use everything from dye to glitter to feathers for crazy creations.
We hope you find some of these Easter party 2019 tips useful and don't forget for all your Easter 2019 party visit our locations in Brooklyn, Queens and Hauppauge, Long Island.